Since our job is directly connected to fashion, we couldn't miss fashion week, right?! Our first trip, first fashion week, first flight, first everything with MAKEOVER BURO, whoop whoop!
If it were up to us we would go to every fashion week, starting with New York and finishing with Paris, but someone has bunch of work to do at the office, obviously. Therefore, London Fashion Week was the best option for us: perfect timing and right connections.
From all the shows, NATASHA ZINKO's  was special for us. Wondering why? Well, one of our partners and dearest friends, BRANDON ARCHIBALD was the agency that made her first collection's lookbook . No doubt this show was carrying a certain emotional charge for us. More than that, we had the chance to meet Natasha in person. Let us tell you something, this woman is truly beautiful. Inside and out.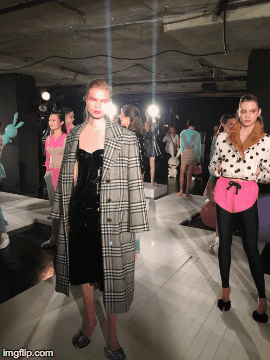 Speaking about the collection, it was a delightful 80s music and shapes mix. And the colours, oh the colours…powdery pink, yellow, blue, green…they all reminded us of the glorious 1980's. These are some of our favourite pieces from the collection. Girly tops, ladylike silhouettes and funny shapes. This is what we call a fresh approach of 80's in the 21st century.
Playful, funny, cheerful are the perfect words when describing this collection. Or, if in one word #girlsjustwannahavefun :))))
We couldn't miss the chance to strike a pose, could we? That's all for now, fellas, see you next time! More articles are coming on the blog, so, stay
updated!

xoxo,
@MAKEOVERBURO TEAM.